Neotomic Fanzine Issue #2 is FOR SALE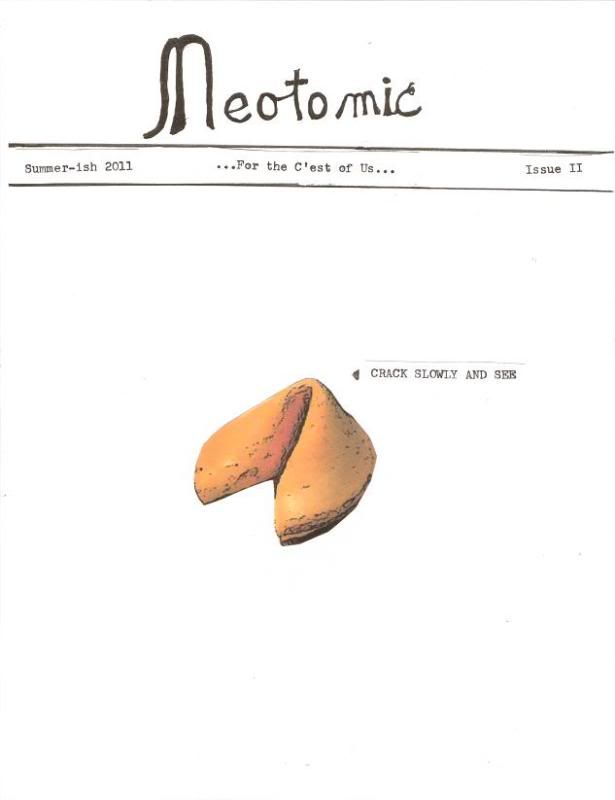 Yes, issue #2 is officially out! Issue #2 features interviews with Laena Geronimo and Dante White Aliano; reviews of Peach Kelli Pop's S/T debut, the Gooeys' E.P., and Princess Chelsea's Lil' Golden Book; the TacocaT/Forever concert memoir; and most excitingly, the cover is a tribute to Warhol's VU banana cover, with a "crackable" fortune cookie sticker. Of course it's all lo-fi and DIY, made with only a type-writer, images from old art and photograph books found at my college, and every image's caption is a different fortune supplied by various fine Chinese food establishments across the state of NJ. Only 50 copies of the 1st printing exist, so get yours now before they're gone for ever, and because there is such a limited supply, they will only be available here! It's only $3 dollars for a copy, and that includes shipping. Every copy also comes with a free copy of the 1st issue as well!
Here's some more specifics:
20 Pages
B&W EXCEPT the cover which is partially coloured.
8.5"x11"
Every word in the articles is typewritten.
All xeroxed and hand stapled. There is no professional binding here. This is no different then the storybooks you made when you were eight.
And here is some more scans: