Interview: Laena Geronimo of Raw Geronimo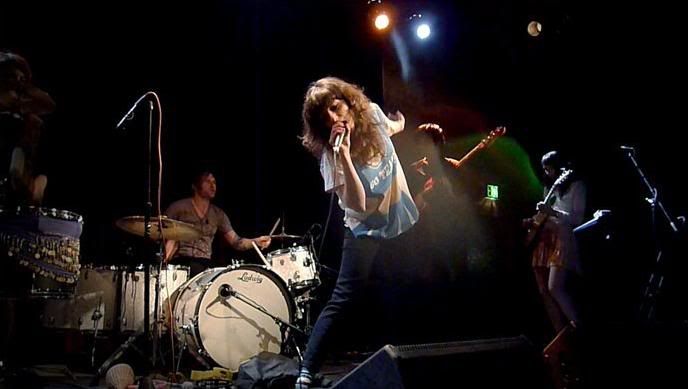 I was so excited to hear that I got this interview, because I've been the biggest fan of everything Laena Geronimo has done, whether it be violin with Swahili Blonde, bass with the Like and Starlite Desperation, percussion with Dante Vs. Zombies, or even her contributions to Neverever's Angellic Swells LP, but it truly is about time we finally get something solely of her own creation. At the same time, however, Raw Geronimo is worlds away from anything she has done before, and in fact, it's in a world of its own altogether. With this group you cannot simply compare them to any one group and leave it at that, such as how the Like were often touted, however erroneously, as the modern Go-Go's, nor can you file Raw Geronimo into any one genre, because they belong, if only a bit, to every single sound. There's elements of pop, punk, post-punk, Roy Orbison's grand operatic ballads, avant-garde, garage, goth, jungle, world, new wave, no wave, and even touches of a really talented YMCA drum circle, all with the confines of one single perfect little group.
My original explanation tried to do just what I warned against, pigeon-holing them into a corner, and as you will see it's impossible to even begin to try:
Take the unpredictability of James Chance, a touch of Tom Verlaine and Robert Quine's rhythmic guitars, the instrumental second sides of David Bowie's "Heroes" and "Low,", add a dash of Sergio Leone's "Buffalo Ballet," so to speak, toss all of it into Mr. Sleary's gypsy caravan, and finally, pull it to the heart of Chinatown, and you just may have the sound of Raw Geronimo. 
But while you can make such a bold claim and even, perhaps, get away with part of it being correct, you still wouldn't begin to scratch the surface of the layers upon layers of complexities hiding underneath. I think that it may be such a truism to their sound that if such a thing as string theory does exist, the key to finding the six other supposed dimensions may very well lie within the music of Raw Geronimo. 
However, what may be most important to their sound is that their music is stripped away of any glassy facades or false pretenses that go hand in hand with so much of today's music, and what's left behind is the closest you will ever come to pure emotion and raw, unbridled energy without actually getting struck by lightning. At times the music seems so instinctively real and primordially existent that it's as if it has its own heartbeat, its own pulse, and can become so efficaciously alive with the flick of the wrist, it becomes its own self-sustaining living thing entirely. In a single instant anyone of her songs can go from just learning to breathe and taking its first hesitant newborn steps, into an almost uncontrollably animalistic and vibratory energy, pulsating like a musical panic attack.
What's interesting is that all of this was achieved with almost all of their few precious demos that exist today recorded entirely by her, and they may be some of the greatest and most complex bedroom demos in existence. Now, of course, Raw Geronimo has expanded into a stellar all-star lineup consisting of lead guitarist Andrew Scarborough of the Black Apples, drummer Michael Rudes of Cactus Pricks, percussionist Lauren Fay of Amanda Jo Williams, bassist Dante White Aliano of Dante Vs. Zombies, and rhythm guitarist/keyboardist Shannon Lay of Facts on File.
It's exciting to catch a band already so accomplished, yet at the same time get the chance to watch them grow and evolve day by day, and I'm honoured to present this interview today. Endless thanks go out to Laena Geronimo, and to anyone who reads this. -Cody
Neotomic: After contributing to so many different projects and bands, it feels like it's about time that we finally saw something of your complete creation. What was it or when was it that you decided to finally dive head first into fronting your own band, after contributing to so many other projects?  
Laena Geronimo: New Years 2011. I had been incubating this band for a long time, just sort of waiting… I've always written and recorded songs; I've always sung; I've always interpreted music in an insanely visceral way. The only thing standing in my way all this time was this totally crippling shyness. There was a time when I thought I'd be a closet musician for the rest of my life! It's been a real process, and the final frontier was always to get to a point where I had rid myself of every last shred of inhibition- where I could just put it ALL out there. RAW.

Being a player in a band is really fun; bassist, violinist, percussionist, you name it- it's a blast and has it's own virtues. I was happy enough to just ride those waves and learn and grow with each different situation. I've always known that those experiences would never be IT for me- I absolutely HAD to form my own band and front it some day; I knew there was this fiery monster inside, just shaking at the bars of this little prison! Waiting and Growing! Bigger and Hotter! I distinctly remember being in a tour van in 2008 writing in my journal impatiently asking myself when the hell would I just go for it? Would I die first? What was I waiting for?
I was waiting for that monster to burst through the bars. Jan 2011 The Like decided on a hiatus and the stop watch clicked to 0. I basically exploded. Me and the monster are the same person now, and I have never been more relieved!

N: Even though it already sounds like there is such an amazing self-assured confidence to your voice, did you have any inhibitions or reservations about doing something so exposed and external as this for the first time? 
LG: Thanks! No. It's all part of that monster thing I was just talking about. I get to let that crazy wildness go totally free, much like letting your dog off the leash at the park or something. Singing with my full voice just feels SO good, I can't really explain that. And then the freedom of not playing an instrument allows me to totally use my body as a physical interpreter- to the lyrics, the music, the audience- to the moment! It really is like being possessed; it's basically an entirely different me up there. I've discovered after a set before that, to my genuine surprise, I've been rolling around in a puddle of broken glass and my legs are bleeding. Seeing videos or photos of shows- I almost can't believe it. I mean it's crazy.
N: Although it's only been a short time since Raw Geronimo has expanded into a full band, have the additions evolved or grown the sound of Raw Geronimo since the original demos, and now that you have a band behind you, do you prefer the layer by layer recording of the demos, as well as your work with Swahili Blonde, or the live recording seen on the CDs you just released with Raw Geronimo?
LG: None of the above I suppose would be my answer. I definitely prefer the full live band recording approach, and then overdubs for vocals and other little things if need be. We recorded recently as a full band that way at an awesome studio called The Hobby Shop and I am so excited about those recordings. The live stuff we "released" was just recorded super lo-fi at our practice before we left on the bay area tour we did in June so we'd have something to sell. I mean- they're hand painted and hand bound sort of like little 7"s which looks awesome, but the quality of the actual recordings is pretty terrible haha. I will always use the layer by layer demo approach as a song writing tool; recording is part of the process for me. But as far as the band goes, every member is an awesome musician, and each one brings their own personal style of playing to the table. Right now everyone is mostly playing parts that I worked out myself, but I'm really excited going forward to be able to step away from the controls more- write mostly just the bones of the songs and let them take that and flesh it out in their own way. Honestly, the Faustine single that's coming out in late August-  it's just me playing everything before I'd formed the band- and really I wish that it wasn't. It doesn't sound bad, but I definitely think it's better now as a full band, which I suppose is a very good thing.
N: With your influences seemingly lodged in both sides of the musical world, classical and popular, are there classical influences within and throughout the music of Raw Geronimo, even subtly, or is Raw Geronimo more of a severance from the classical world, and a more pop-minded outlet for you? 
LG: I don't consciously go into songwriting mode thinking that I'm trying to employ any particular influence or disassociate from any either. Putting definitive walls around the direction of a song while it's in the process of being written messes with the flow of ideas for me. Ideally I would like for our band to be a harmoniously eclectic mix of like every single different style of music that has ever existed anyways, so I just let it go where it's gonna go and figure out if it's good enough or right for RG afterwards.
Sometimes I'll notice references retrospectively, or more often someone else will point out a reference and then I hear it. One thing that was kind of mind-blowing about forming this band was the process of teaching the parts to the members and discovering all these weird influences that I hadn't realized. For example Andrew, our lead guitar player, is insanely schooled in guitar via college music performance major etc, and he'd never played anything like these riffs I was showing him. I would never have guessed it, but turns out the fingerings that I choose and therefore the lead lines I come up with are totally based in my classical violin background Ha HA!!

N: With playing so many instruments expertly from violin to the electric bass did you grow up with a classical background and discovered pop after, or was it the other way around? 
LG: Well, my parents are both musicians and were very active in music when I was a kid. My dad is a pretty established drummer and my mom sings and writes songs. She had a band called Babooshka that practiced in our living room at my bed time a couple nights a week from when I was 2-7.  She made me sing a lot, and there are tons of recordings where I sound like a tiny Billy Holiday. My dad would sit kid-me on his lap while he played drums, and apparently often held a little stereo playing experimental jazz up to my mom's belly while she was pregnant with me. There are pictures of me playing acoustic guitar when I was like 4… etc. But I started playing violin at school in 5th grade, and then basically only focused seriously on that until I was in high school, where I got into guitar and played electric in the jazz band hah. I took private violin lessons for 15 years though, only stopping when I was touring too much for my super strict Russian violin teacher to tolerate. So I mean, I dunno. I guess it was a mixture of musical backgrounds.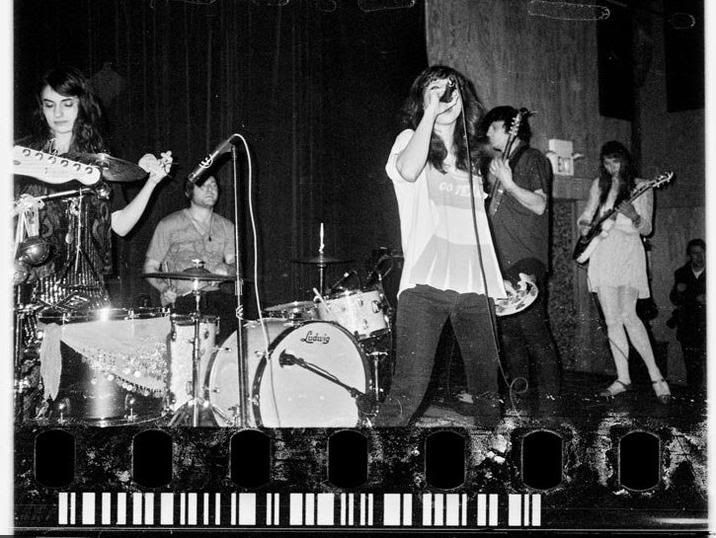 N: You've often talked about Kate Bush as if she is one of your central figures of your influences, but her having so many equally prevalent aspects of her career, what is it most that influences you and your sound, or does she influence your sound at all? 
LG: The thing that influences me most about Kate Bush is her fearlessness. She is not afraid to look or sound ugly! or totally weird! which makes her a thousand times sexier and more compelling to me than if she were just another pretty face with a pretty voice. She is comfortable with and employs the entire range of human emotion and expression. She made it into the realm of mainstream pop music without compromising her integrity as a true artist. She is sort of a hero to me in that sense. She also is of course an incredible songwriter and lyricist, and the visual art that she chooses to accompany her music is always totally original and bizarre, which I love. But I think it's the willingness to put it all out there without worrying about what others will think of her, which translates into every aspect of what she does, that I have found the most inspiring. 
N: As you have said, you were born to parents who were art punks, and you went through a self-described "deranged nihilistic punk phase," but with the punk genre being so varied, are you more influenced by the more straight ahead groups like the Clash and the Ramones, or the artier side of NY with artists like Patti Smith, Richard Hell, and Lydia Lunch, and has your focus changed over time at all? 
LG: I like and appreciate both, and I actually think there are many more facets to the genre of "punk" than just those two. There's so much overlap and grey area too, like for instance The Clash had different periods where they weren't playing straight ahead punk rock at all, and Television are lumped into the NY artpunk scene even though their music almost has a classic rock vibe to it. But really during that phase you're referring to, I was just listening to basically anything that came out between the years of 1973-1983 that came on a button pin I could put on my leather jacket haha. Alongside a giant pin that said "I'm under the influence of God." hahahahaha. Of course my focus has changed significantly since those days. 
N: What can fans of Raw Geronimo expect this year, such as releases and touring? 
LG: Welll….. we will be releasing the Faustine/Magnetic Love single 7"vinyl/digital download through Human Ear Music in late August, with an epic music video for Faustine to come out shortly beforehand. Seriously, we can't wait to see this video. It's going to be insane! In the best way possible. We are planning to release a follow up single shortly after featuring the full band on 2 newer songs which are already recorded but aren't on any websites presently, along with another video. I hope to get us in the studio to record a full-length before the year is out. As far as touring goes, we may do some more mini tours within a day's drive of LA, but for now there aren't any major tours being set up for this year. I plan to really get us out on the road in 2012. But as you can imagine, none of this can seem to happen quickly enough for me!! 
N: Do you think Patti Smith meant to sing J-L-O-R-I-A, or is she just a really bad speller? 
LG: I'm pretty sure she was just saying "G." Maybe she had a little too much to drink that night.   
Thanks again to Laena Geronimo! Now please go and check out more Raw Geronimo here:
http://www.facebook.com/RawGeronimo
http://www.myspace.com/RawGeronimo
3 Notes/ Hide
fuckyeahrawgeronimo reblogged this from neotomic