Habibi Tour Diary Pt. 2
by Rahill Jamalifard
Don't forget to read part one here!
Our final show of the day was our official Panache Showcase, happening at the Beauty Bar downtown. The scene there was wild, soooo many bands, fans, photographers, it was kinda overwhelming. We started off the night again, in the outdoor tent, and we played to a crowd of hungry and excited movers and shakers.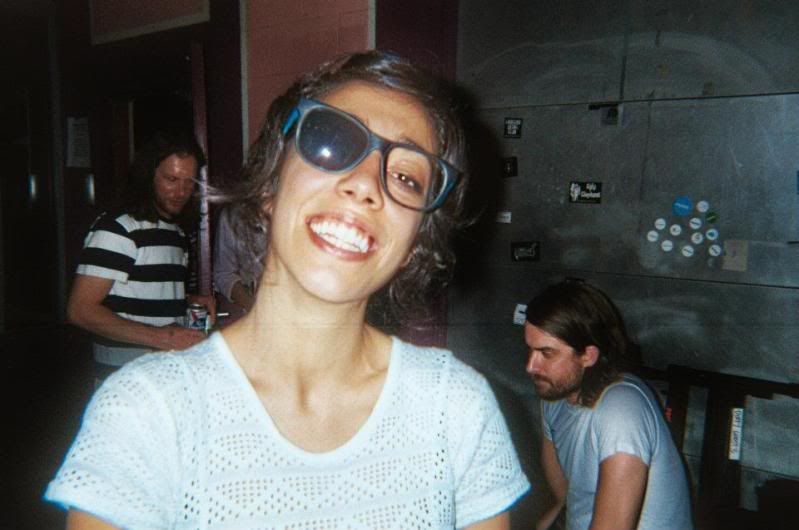 Goofin at the Panache Showcase SXSW, Austin Beauty Bar
Jonas from Turbo Fruits joined us on stage for our last song Tomboy. He learned the parts on guitar and sang with me for the chorus, it was a ton of fun, people could tell we were having a good time playing, and I really hope the people in the crowd were having just as much fun watching.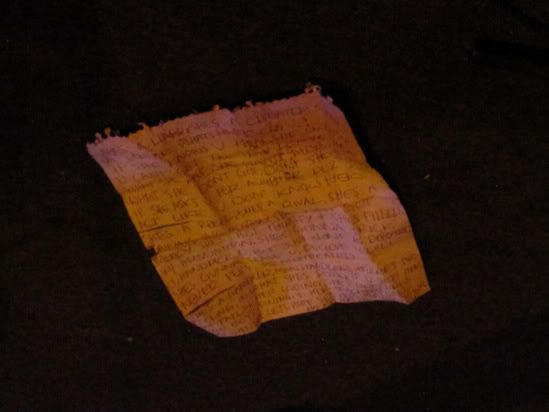 Rahill's Lyrics to Tomboy 
We stayed downtown that night hanging with all our buddies, till the exhaustion of four shows caught up with us and we trucked on home to get some rest before our shows the next day. Thursday was a really fun, we started it off back at Trailer Space Records, playing our buddy Philip from Strange Boys show, in the afternoon. Every band on the bill were our friends, so we gladly hung around reuniting with old and new. I was so pumped to see one of my oldest and best friends, Tia, playing with the band White Fence. Those dudes ripped so hard, they were definitely my personal favorite, and all the rest of the Habibi's would agree.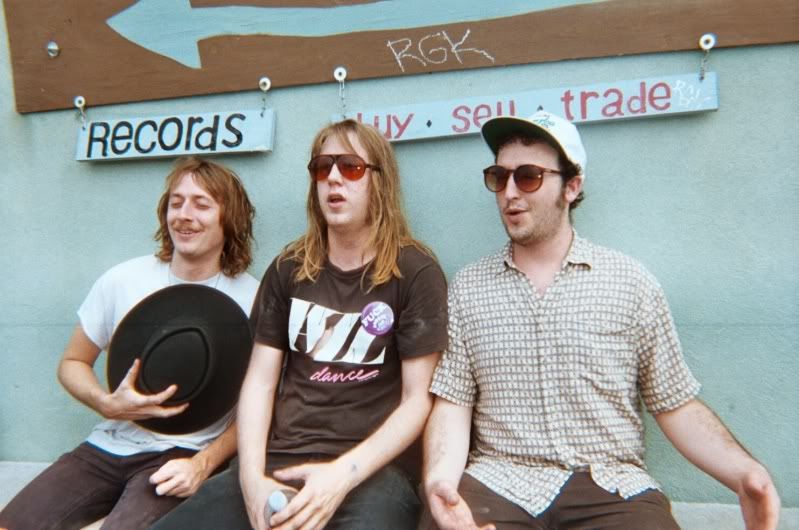 Natural Child Filmed For Our Music Video
We spent a lot of time hanging out in the parking lot, filming clips of all our friends shouting, "tomboy!" over and over for a music video we are doing for the song. People were getting super creative and into it, so we are REALLY pumped about it.
We had to leave to play John Dwyer's show, so we said by to all our buds and drove over to this lengthy warehouse in the middle of nowhere. The place ruled, there was about five people total there though. But we had so much fun with it. We just danced around on the huge stage and I made Karen sing the cover with me whilst banging on drums. Everyone was really nice, and it was actually air conditioned which ruled. But as soon as we were done playing our hunger caught up to us so we bounced quick, to eat a food. 
Swimming Hole, Barton Springs in Austin
Friday we only had one show so afterwards our buddies in Strange Boys took us to a swimming hole called Barton Springs. Erin and Caroline ripped their clothes off as soon as we got there and both dived in, repeatedly. Karen and I sat on the sidelines discussing how white people are crazy for loving freezing cold swimming temperatures.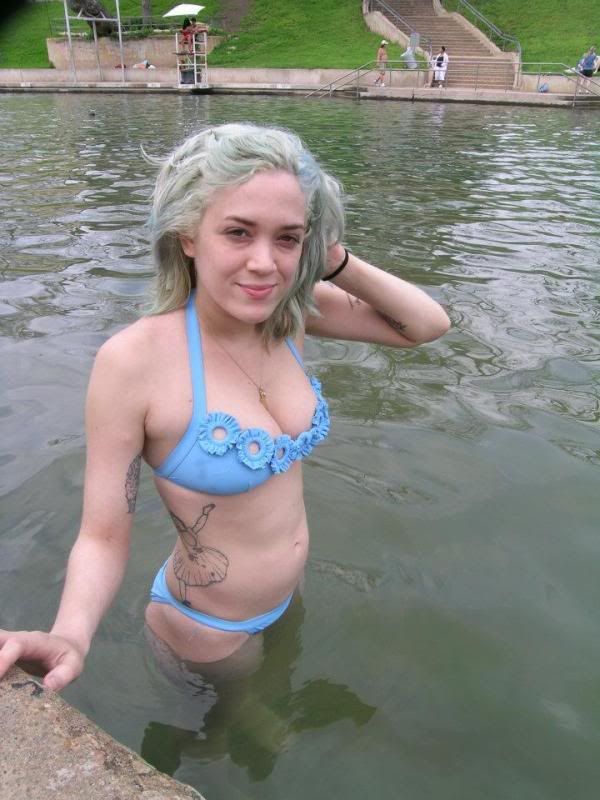 Karen Blue Beauty at the Swimming Hole
Karen finally gave in and much less epicly, slowly walked through the shallow waters till she dipped her head under. I didn't move from my place on the sidelines, and sat lecturing them about catching colds, from freezing ass water temperatures when the weather wasn't even hot enough for a swim in the first place. Yeah, they call me the mom.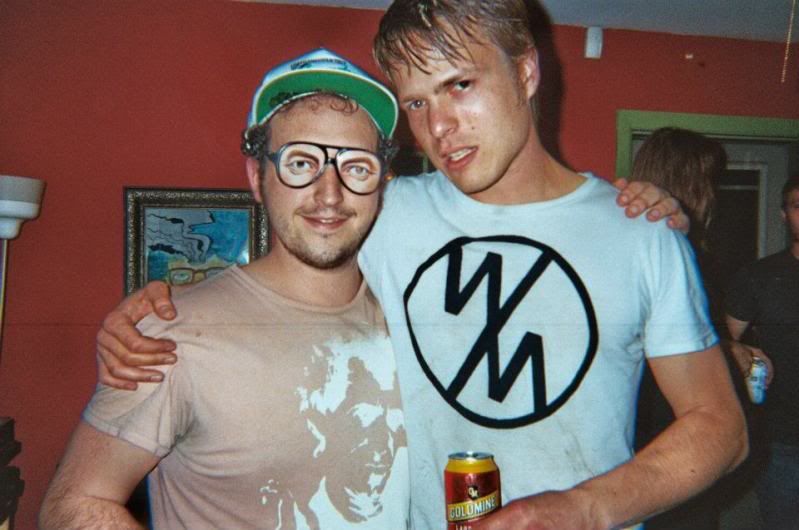 Orville's House Party!!! 
Man I haven't mentioned one thing about Orville's parties. Orville is this rad Austin dude, from the band OBN III's. He lives on the east side and lets bands crash his place and party. We partied there almost every night. Our best pals Natural Child had a shed to themselves and our buds from Terrible Twos stayed with him as well. All our friends joined us throughout the nights, White Fence pals, King Tuff buds, Strange Boys bros, King Louie gang, the friends were endless and so were the good times. That place rules, even if the porch is a kingdom of moths and mosquito eaters. 
Final Day With Band at Spider House SXSW
Our final and last night of SXSW was on Saturday at Spiderhouse playing BurgerMania. Dude, this was the event of all events. I mean everyone was there, and not just everyone, every hot piece of ass was too, I think I straight up saw Pocahontas running around.
Karen Chillin' At BurgerMania
I was talking to the boys in White Fence and we agreed this was a pretty people party, and we were unanimously grateful to have all made the cut. Oh and guess who else showed up, BILL MURRAY. Yeah, he was there hanging out, doing Bill Murray things. Couple friends got photos with him, my friend Tia did a shot with him, he looked old, but he looked happy! Our show was fun, we played inside to a gang of sweaty people. We danced around on the small staged and winked at one another, knowing it was our last and final show and we were gunna have a ball with it.
The last night was really fun, we said our good byes to all our friends, kissed em the best, wished them all something good, and went home to saddle up for our final show in Birmingham, Alabama, before making our way back to NYC. 
Sign at The Bottle Tree, Alabama.
Birmingham was insane, the place we played was so incredible, The Bottle Tree, GO THERE. It was like walking into a time warp and waking up in a mess of different eras. There was a huge "Welcome to Twin Peaks" sign that greeted us, along with plenty of food, and full boxes of old super hero and star wars costumes and toys. We stayed in the backstage area playing with the costumes like kids till we discovered there was a backyard with 1960's airstream trailers ready for us to make homes in.
Caroline and Erin at the Bottle Tree Playing Super Heroes
We freaked out the place was so rad, they even had TV's hooked up to ataris dude! We lounged around in them waiting for our buddy Dan Sartain, who was kind of enough to set up the show for us, come by and smoke us out. Dan is the man, he made Alabama so fun, the show was great, and we dedicated a Ramones cover to him, because if you know anything about Dan, you know the dude loves the Ramones!
Sadly we had to cut our magical time short at the time warp station, and hit the road to get back to NYC in time for all of us to make it back to work. Seventeen hours of driving seems like a brutal, torturous curse, but when you're in a band with the best babes in the world it turns into a saga of giggle fests, matched by creative deviations of formulating new songs and ideas. Oh, and playing the game kill fuck or marry for five hours. Do you know that one? Its the best. All in all tour was prolly the raddest time we have all had in so long. We made so many friends, learned so many new things, listened to some really great bands, (King Tuff, White Fence, Strange Boys, Natural Child), collectively set the world record for a band's full count of bruises, and pushed raging to new limits. So fucking stoked I was a part of it all, and had the luck of being in a band filled with rays of sunshine and waves of giggles. I'll leave you with a good kill fuck or marry.
Who would you kill fuck and marry from these three:
George Castanza
Carrot Top
Jay Leno
GOOD LUCK, WE LOVE YOU, LOVE HABIBI XOXO
More Photos: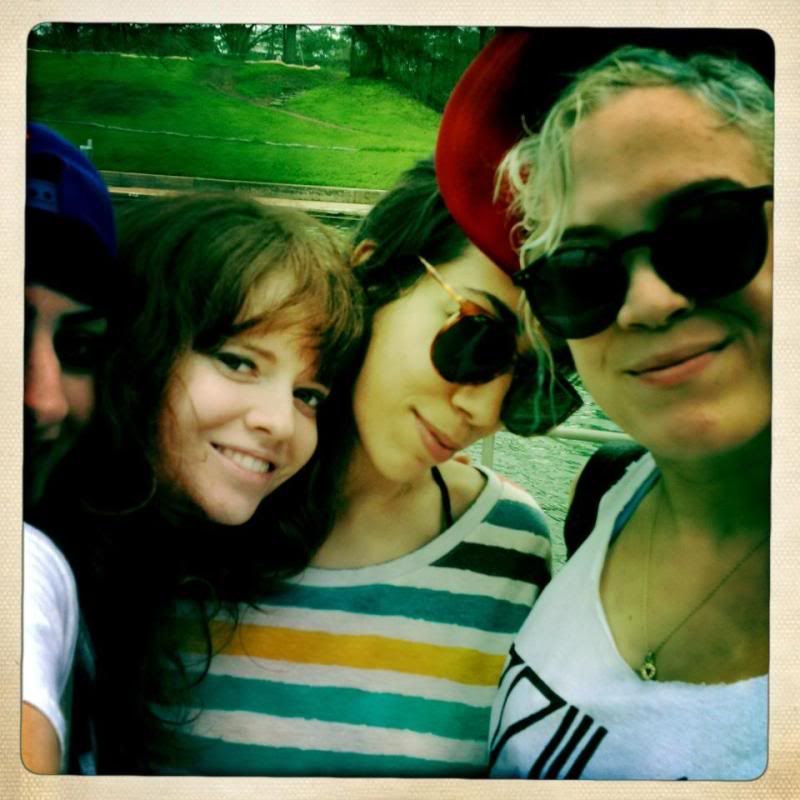 Barton Springs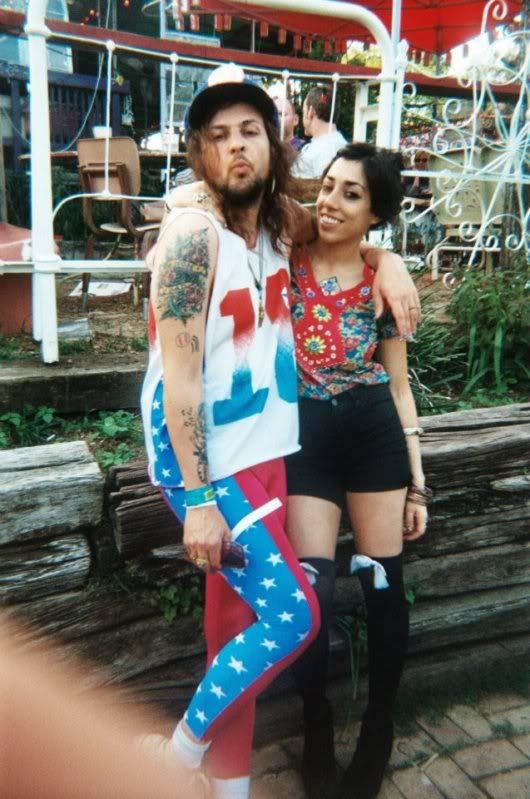 King Tuff Looking Sweet At A Show We Both Played
Rahill, Caroline, and Erin Outside Nashville Show
Karen Backstage of Bottle Tree Playing Super Hero
Bruised Up Erin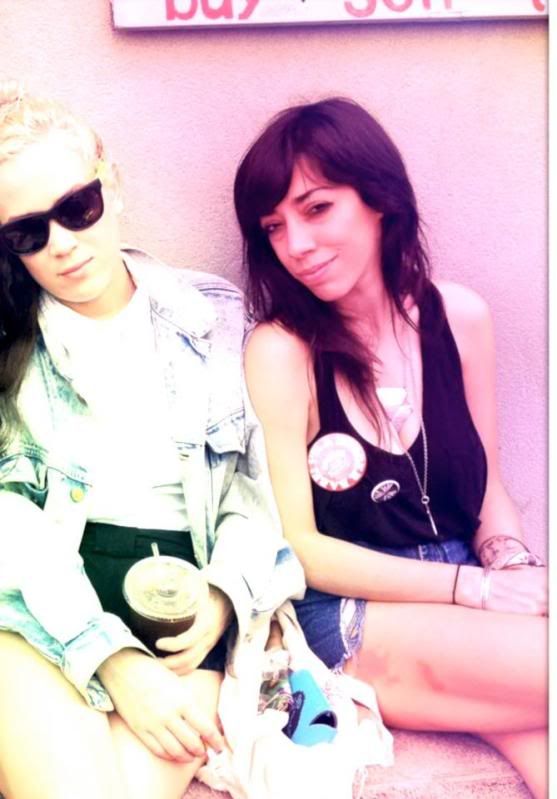 Chillin' Outside Trailer Space Show in Austin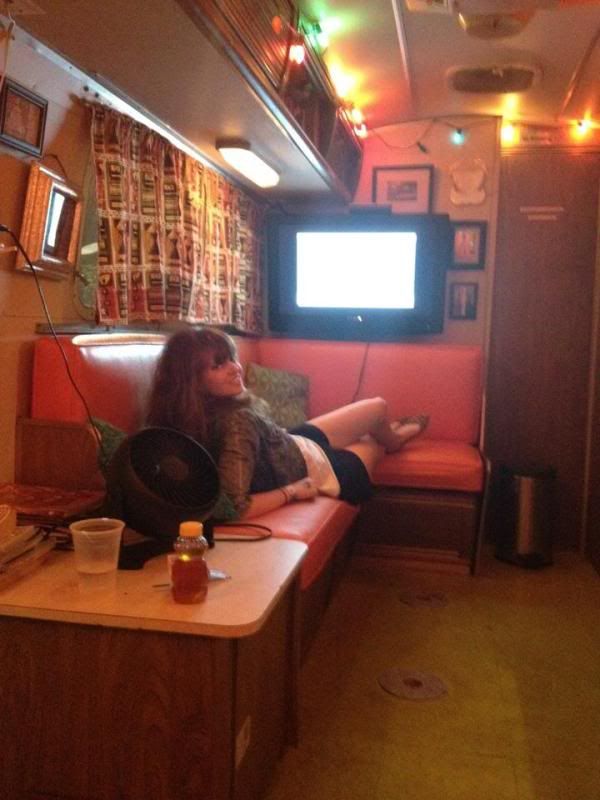 Erin in the Trailer in Birmingham, Alabama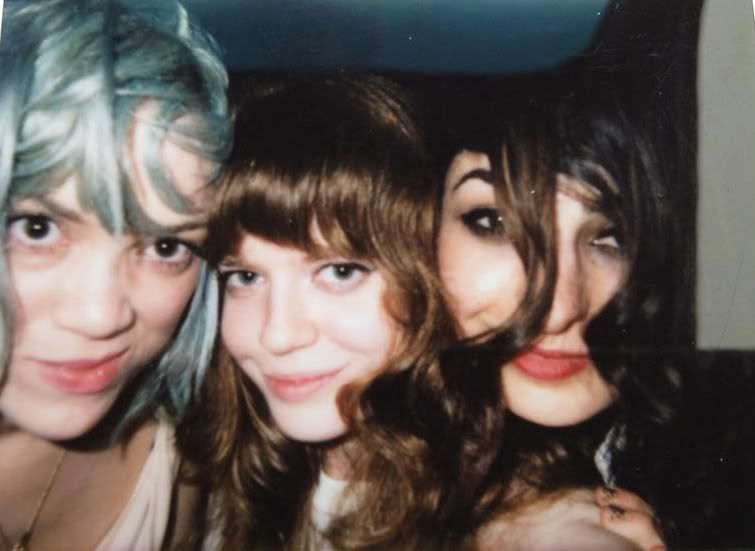 Karen, Caroline, Erin in Car After Thursday Show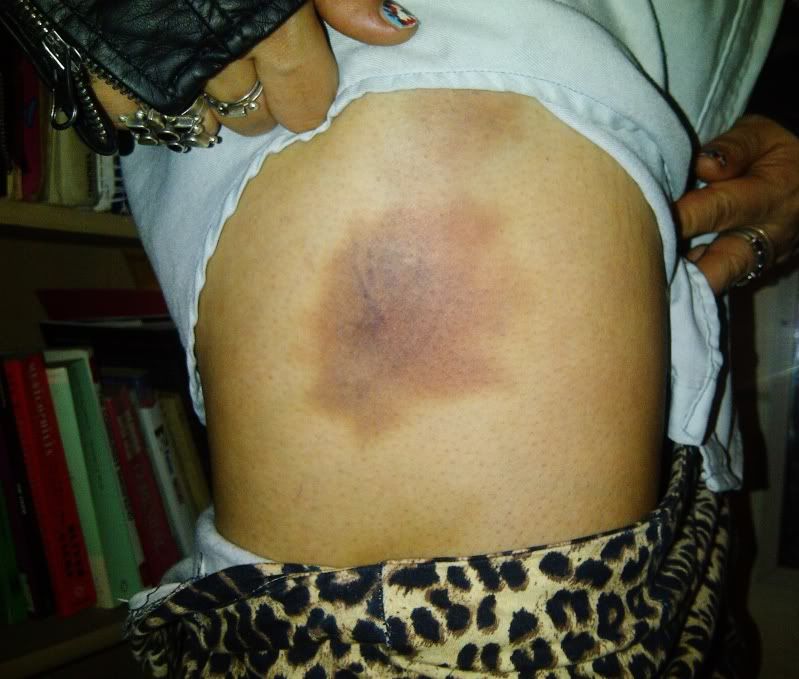 Rahill's Bruise from Tambourine
Strange Boy Brothers At Their Spider House Show
Raging at SXSW with Turbo Fruits
Hilarious Glasses at Orville's Party We'd Been Passin' Around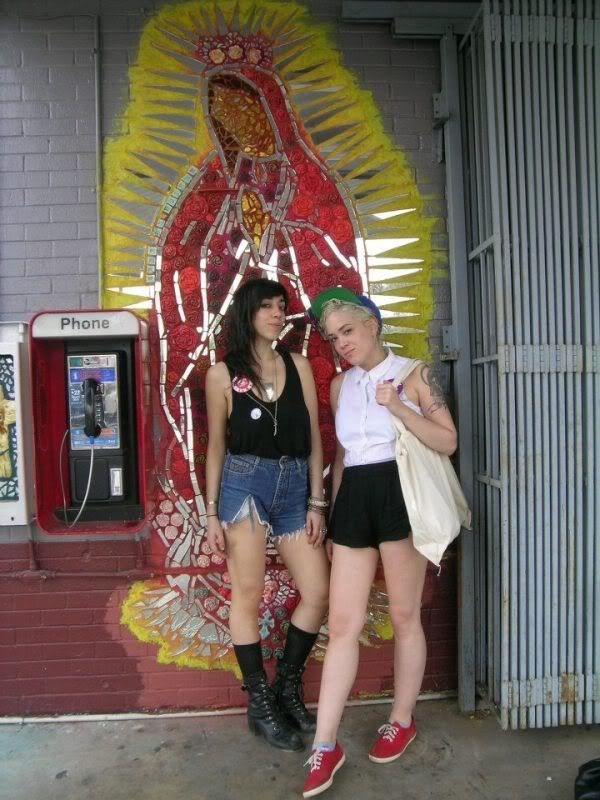 Tomboys Rahill and Karen Outside Lunch Spot in Austin