Peach Kelli Pop December Tour Diary Pt. 3
by Allie Hanlon
(Don't forget to read Part One and Part Two!)
We drove to Orlando and hungout a lil with Rich (of Florida's Dying) and Denise, and Denise's  roommates before heading to Will's Pub, where we were playing. It was Florida's Dying's Christmas Party. One of the highlights of the night for me, was taking pictures with the cutest baby ever!  (I don't normally care about babies) The baby was a lil guy named Leo.
Leo's dad was making a photo album - pictures of Leo with different musicians and characters - like Peach Kelli Pop & the host of the Florida's Dying Xmas Party: Santa Claus!
It warmed my heart getting to spend some time with a sweet little baby.  Leo's mom and dad are the nicest couple - they exude sweetness.
Another cool thing - Robert Leng, a fan from elsewhere in Florida took the Greyhound to come to both our Florida shows! So cool! He is a photographer and took some cool portraits of us.
King G and his Gtones, Santa Claus and Baby Leo!
We played with a bunch of cool bands that night. Another show where the crowd was AWESOME. People wanted to have a good time!  The bar was really cool, we were treated well, and Rich did a great job setting up the show. King Grincewicz and his Grinztones (spelling???) played all the hits - they were a party band! They wore matching Christmas themed outfits. It was a real show.
Definitely one of the most fun nights of the tour, in my eyes at least.
Next show was in ATLANTA.
I have been to Atlanta a few times before, with the White Wires and also just for fun. We played at Estoria - a club where Karen (bassist of Black Lodge, one of the bands we played with) bar tends.
Estoria is a cool bar.
Black Lodge was up first. They remind me of a band from San Francisco that I loved in high school (and still love) called Subtonix. Next up was us. I had a great time playing. Nice to see some of my friends faces in the audience!
Predator headlined - they are one of my favourite Atlanta bands. I had seen them about 2 years earlier - but this time they were way better than I remembered. They are punk as fuck. They have great originals and covered a Screamers song, doing it total justice. Greg King (of Carbonas, GG King, etc) plays drums for them now. They are local faves too - they drew a great, enthusiastic crowd.
I was happy to be back in Atlanta! I always have fun when I visit. I got to meet some new fans, see some old friends. We hungout with Karen and Jesse who are lovely people. They provided us with the most excellent hospitality in their beautiful home and showed us around the next day. Friends & hospitality like that make such a difference when you are so far from home. Thanks Karen and Jesse!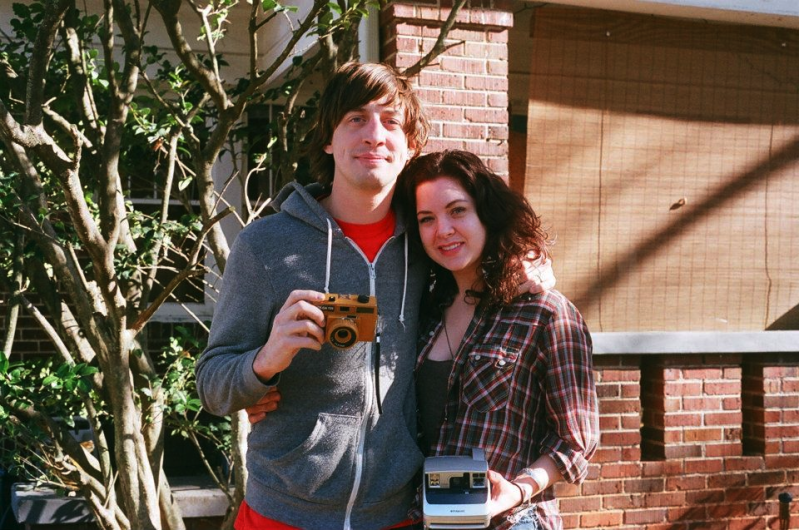 Beautiful Karen and Jesse!
Next day we played in Birmingham Alabama!
Hayley and David play in the Tuffs, who we shared the bill with, and also had us at their house before and after the show. Hayley made home-made chex-mix AND brownies! Jackpot! I felt so lucky! She is a great cook.
The show was at a really big old house called God's Butt. It was a small but fun show. The Tuffs were cool - they are a 2 piece and they play primitive, catchy rock n roll. We played after - it was cold in that little basement! But things warmed up eventually. Hayley brought a smoke-machine. I need to get one of those for the next tour!
We went back to Hayley & David's and I found a quiet room, curled up and went to bed. Hayley re-sells vintage clothes. The clothes were displayed around their house - I couldn't help but pick out some different pieces and take them back to Canada with me! All my new favourite shirts are from Hayley's place in Birmingham.
Above: Hayley (who was sick - poor thang!) David and myself.
Memphis was next!
We were playing another Christmas party. This time it was GONER RECORDS! Lucky us! We played with True Sons of Thunder. They were so weird. I loved it. I laughed the whole set.
Then was Sharp Balloons. After were Toxie. I love Toxie. Check them out if you get a chance. They were a band I hadn't heard of, and now are one of my fav current bands.
We played last (I think?) and it was fun! There is footage of a bunch of our set up on youtube. If you look you can find it!
April Novak let us stay at her place. Her place is FILLED to the brims with cool shit. Records, knick-knacks, tchotchkes, clothes, girly stuff and one cute cat named GG. April was a very gracious host. The next day we went for lunch at Soul Fish - a place we had all been to a couple times. It's AWESOME! We hopped in the car and drove onwards to Nashville.
PKP (minus Emo, the photographer of most of these pix) and April on her porch!
Nashville is another one of my favourite cities. My record label, Infinity Cat is based in Nashville. Also based in Nashville are great bands like Heavy Cream, Useless Eaters, JEFF, Fox Fun, Natural Child, Diarrhea Planet... SO MANY rad bands! (Check out the entire Infinity Cat band roster)
Ben Todd set us up with another great house show. He's the man!
We played with Fancytramp. They had recently acquired a new bassist (Katie!) and sounded great.
Fox Fun played next. They have the most amazing energy - it's youthful, fun, rock n roll and is totally priceless. But, if you could bottle that energy and sell it, you would be a millionaire. They are total cuties. They remind me of what it might be like to see Red Cross before they became Redd Kross.
It was time for D. Watusi. They kept the rock n roll energy going! Everyone was dancing. Sidenote: I think the guitarist was playing in Useless Eaters at SXSW last year, which was one of the best shows I saw of that weekend.
We played next and it was OK - I always have very high standards for our Nashville shows. I really want them to be good and they never live up to my expectations.
We partied afterwards with our Nashville friends. It was great to meet new characters and hang with our old faves. Emo and I stayed in Rachel Hortman's bedroom. She is a rad drummer that recently moved to Nashville. Staying in girls' bedrooms is always really comforting for some reason. I love girls!
The next morning I went to Bekah Cope's place - she is not only a great photographer but a massage therapist as well. I got her to work out the knots in my back that I had accumulated on tour. I wish I could take her on the road with me!
Lafayette was our second to last show. We drove up north, to the Black Sparrow, the bar we played on our last tour as well. We played with the Lonely Belles. They were awesome - very passionate and heartfelt.
It was so crowded that while I could hear them perfectly, I couldn't see them play! Because of this, after the show I said "good show" to a girl who I thought was in the band - but was not. Doh!
We played next. Great audience and perhaps our best set of the tour!
Lafayette really works for us. Thanks to everyone for dancing and partying.
Vacation Club from Indianapolis headlined. They were awesome and nice dudes too! I was unfamiliar with them, but am now a fan.
We slept in the apartment above the Black Sparrow. Last tour, we did the same, and it was a total crazy party zone. This time it was beautifully maintained and clean. We couldn't have ask for a nicer (and more convenient) place to stay.
We woke up and discovered we had a parking ticket - the only ticket of any  sort of the whole tour.
Detroit was our last show!
We have played Detroit more than any other city in the USA.
We played at PJs Lager House, same as last tour, and we were excited to order Mac n Cheese for again! They have good food at that venue.
First up were Instant Party. They were indeed an instant party - they were straight up ROCK! A 3 piece. Cool band. I hope we get to play with them in the future.
We played, it was fun, and then Gardens ended the night. They are true artists! They played as a 3 piece. In the past I have seen them as a 4 piece but it was just as good this time around.
We stayed with Magic Jake. He plays in Conspiracy of Owls, has played in the Go! (two of my all-time favourite bands), King Tuff and the Detroit Cobras and is the mastermind of Magic Jake and the Power Crystals… I saw them last summer and they RULED!
We are clearly big fans of Magic Jake - he is very sweet and a great host. I think he is one of the main reasons we keep returning to Detroit. Sadly, he is moving to Los Angeles. We wish him the best of luck though!
Tour was a success.
I am still learning how to do this. I think I am improving.
It is amazing being able to travel, see some of the best current bands around and to get a glimpse of the scene and what's happening in many different cities. It's not always easy being on tour but meeting fans and friends make it all worth it.
Thanks to everyone that helped out - booking, promoting, bands that played with us and those who came out to watch us play.
Big thanks especially to my band, who spent 90 hours in a van with me.
More photos: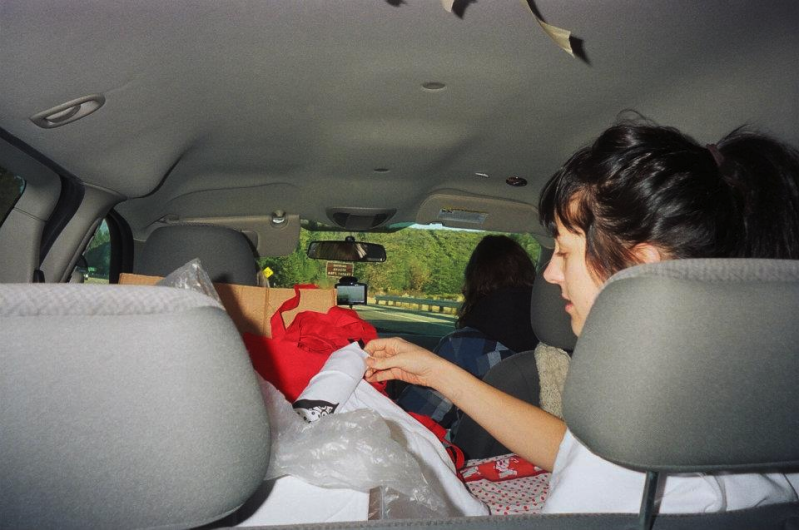 Rolling tshirts on the way to San Francisco from Portland.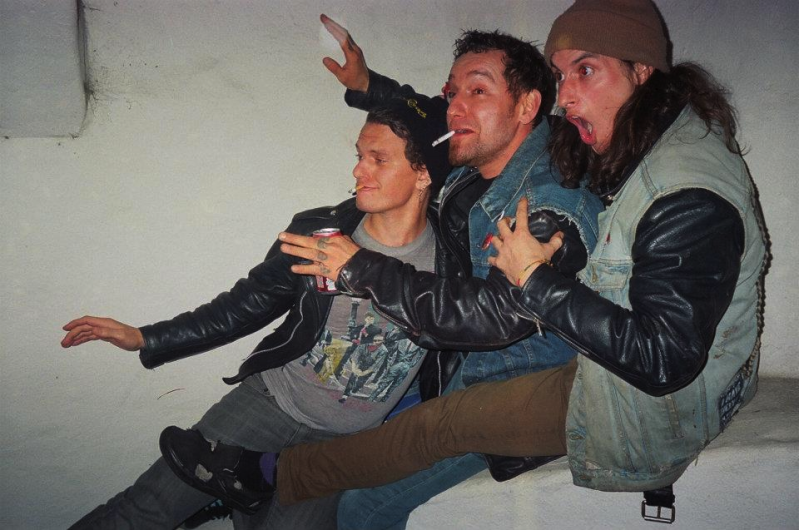 In San Fran, most of us stayed with DONNY and ORIANA! Best couple ever. Above is Donny, sandwiched by Mean Jeans!
Lovely Bad Things at VHLS
Pangea at VHLS (photo cred Emo as usual)
In Tucson playing beer checkers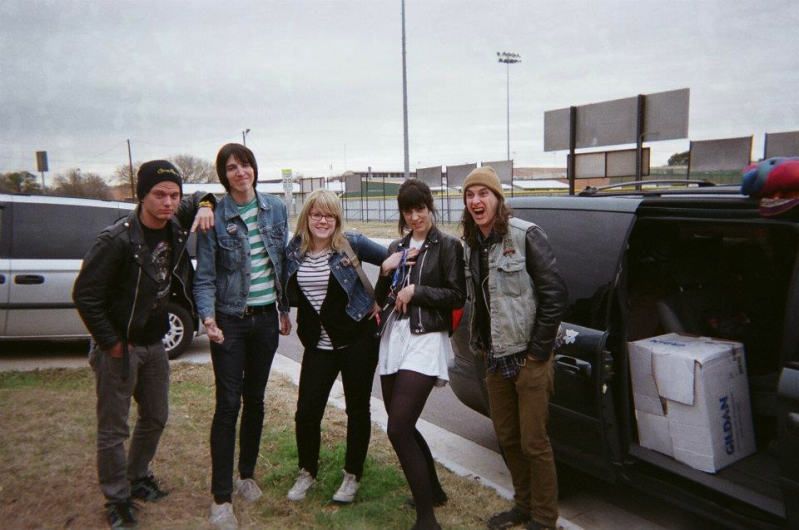 Outside Daniel Fried's! Andrew, Daniel. Kristina, Myself and Ricardo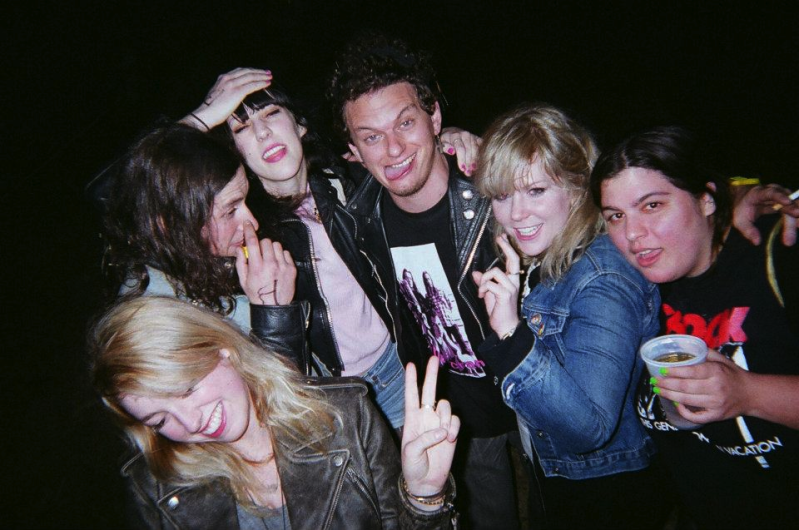 In NOLA outside the Club. CRAZINESS. Emo, Richard, Myself, Andrew, Kristina, Davie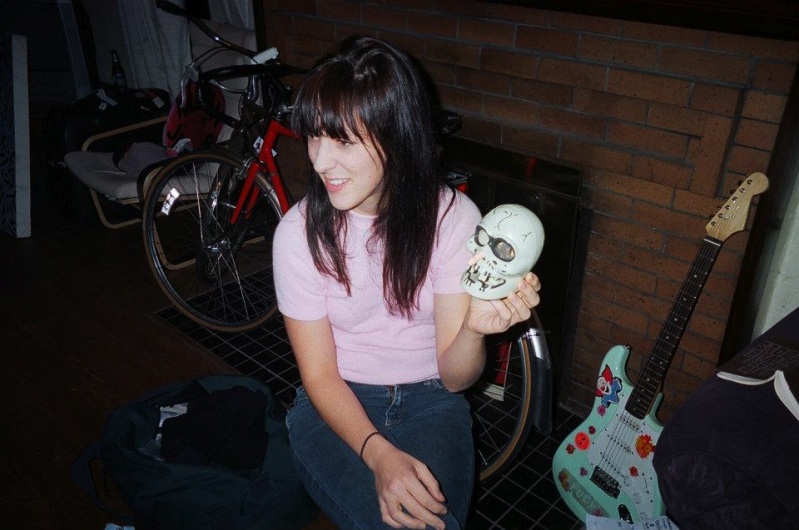 Before the tour, at Christians house. Holding a skull with a mini dick coming out of the nose. Charming.
License to Chill!
the end.
Endless thanks to Allie!!! You can check out more Peach Kelli Pop on Facebook and Twitter! Do it! Peach Kelli Pop's S/T debut is out on vinyl on Infinity Cat and cassette on Burger Records!