Peach Kelli Pop December Tour Diary Pt. 2
by Allie Hanlon
(Read Part One HERE!)
It was a bunch of our first time's in the desert! It was exciting to see our first cactus' and new landscapes that us Northerners had never seen before.
We arrived pretty early to the venue - La Cocina. We got fed & watered there. It's always nice to get an inclusive dinner and a couple beers while on tour! We played with bands we had never heard of - some that were very different from us which was neat. The band that headlined, Lenguas Largas, was absolutely incredible. It would be difficult to categorize them. I have one of their records which is great in it's own way, but live, they are one of the best bands I have ever seen. I was completely sober and still mesmerized by their show. It was all encompassing and haunting.
Above: photo by Emo. Lenguas Largas - 2 drummers, 4 guitars.
We had a long drive ahead to Midland Tx. I really wanted to stay and check out Tucson more, but we had to tackle the first part of our long drive, so we drove on through the night.
Our next show was at the Pine Box in Midland. It was another cool warehouse type venue. It was sad, but we missed all the opening bands because we arrived so late. I alway feel like a jerk cruising in after everyone else has already played.
Either way - it was a fun show. I don't think many of the people had heard of us before, but they stuck around and gave us a chance. I think Midland is pretty quiet show-wise, but Chris Bartlett, the promoter, is doing a great job at trying to get things going. Touring bands: If you ever need a show in West Texas, Midland is great! We sold the most merch of the whole tour in Midland, and people were really friendly and happy to have a touring band stop by.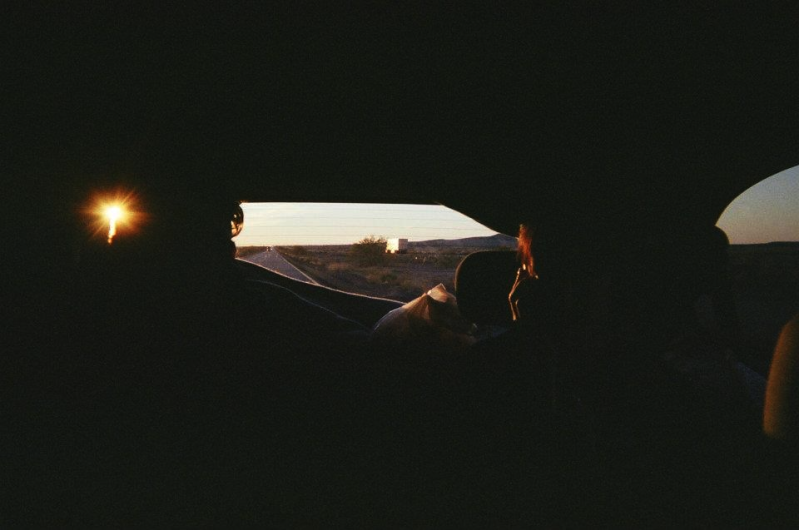 Driving at Sunset (Emo took this one!)
Driving through the desert. Picture by Emo.
We drove to Austin next!
This day was crazy. Our friends in the Cowabunga Babes, Jill and Beth were house-sitting at the most incredible house. They had us over for a delicious dinner that they cooked (a very welcome change from gas station food) before we were set to play at Beerland. Jill and Beth and a couple of their buds are in a band called CC Bloom. I think it was their first AND last show - which is tragic because they were amazing. (I know I keep being positive about every band we play with, but almost every band we played with WAS truly great) I wouldn't say I didn't expect CC Bloom to put on a good show, but I knew it was their first show so I did not anticipate such greatness.
Jill & Allie talkin smack.
We played next. The sound was very weird for that night… While people said we sounded OK (not that I trust people to ever be honest about these things!) my bandmates and I felt like it was our worst show of the tour. Bummer! Just wasn't a good night for us.
Bad Sports headlined the show. They are one of my favourite current bands. I like all 3 members of the band individually - as friends, but also as musicians and I think they play together well as a group. Total rock n roll!
Orville, Gregory and Daniel have visited Canada and had some awesome times with us - besides playing wicked shows in my hometown & in Montreal, we hungout at my parents cottage, BBQed and went swimming in the Canadian wilderness. We had authentic Quebecois poutine too!
Everyone in Austin treated us so nicely! Thanks to Jill, Beth and the rest of CC Bloom for the love and hospitality, thanks to Orville for putting on the show and taking care of us!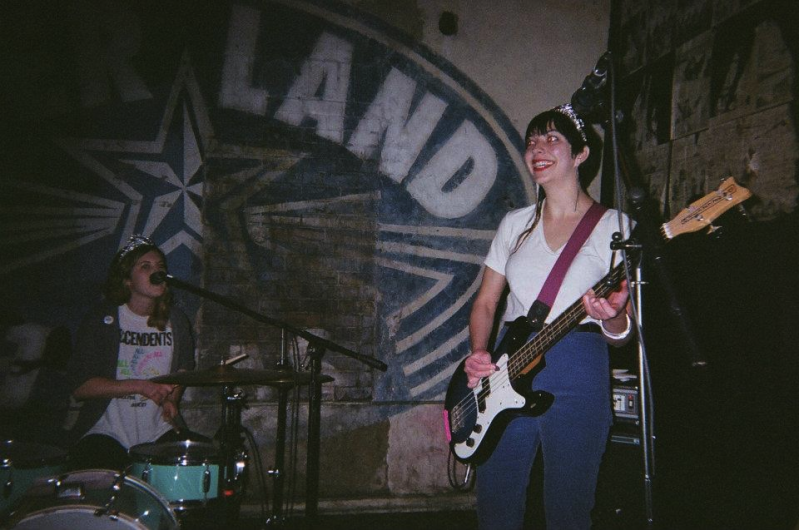 Above: CC Bloom - all 4 member were adorned in tiaras.
Above: Beth, a friend, Kristina, Jill. Photo by Emo. I love this because all hair colours are represented.
Next show was DENTON!
I get the impression Denton is kinda similar to Ottawa, in that it isn't the "coolest" city - it's small and can be boring, but has great people (that know how to party) and is a city known to be a breeding ground for awesome bands.
We played at Mad World Records, a record store where Daniel Fried works (Daniel is the bassist of Bad Sports, Mind Spiders, Wax Museums, etc!) It was a free show and there were a buncha cool people that came out. It was nice to play there - a bright, clean space instead of a dark bar like where we usually play.
Our set was a little less rough than the night before. Phew!
We went back to Daniel and Gregory's house and partied. It was sooo fun! We met many rowdy locals. Denton lived up to how I envisioned it.
Next was our "day off".
This is the second tour Peach Kelli Pop has ever gone on. I have booked both tours and am still learning how to plan things with maximum efficiency and comfort in mind.
Our one day off was spent driving - completely.
Instead of driving, I think we were due for a day of needed sleeping in, chilling, having a change of scenery. Instead, we drove 7 hours, got a hotel and fell asleep, only to wake up and do it again the next morning. Wah!
NEW ORLEANS was next.
This was my favourite city to play of the whole tour.
New Orleans is another city that is SO DIFFERENT from anywhere I have ever been. My impression of the city: It is out of control, fun, dangerous, loud, colourful, dirty, beautiful. I want to move there someday. Maybe?
Our friends Carly and Davie drove from New York to visit, hangout and party with us. Carly lived in NOLA so she knew her way around which was helpful. The two girls had an AWESOME hotel in the French Quarter, and kindly let us stay with them. As always, they were fully equipped to party! They had bought Jager (Richard and Andrews FAV drink) and other supplies - including special jager-bomb plastic cups! Also poppers aka VHS headcleaner, our favourite stupid (and legal) drug. Amazing!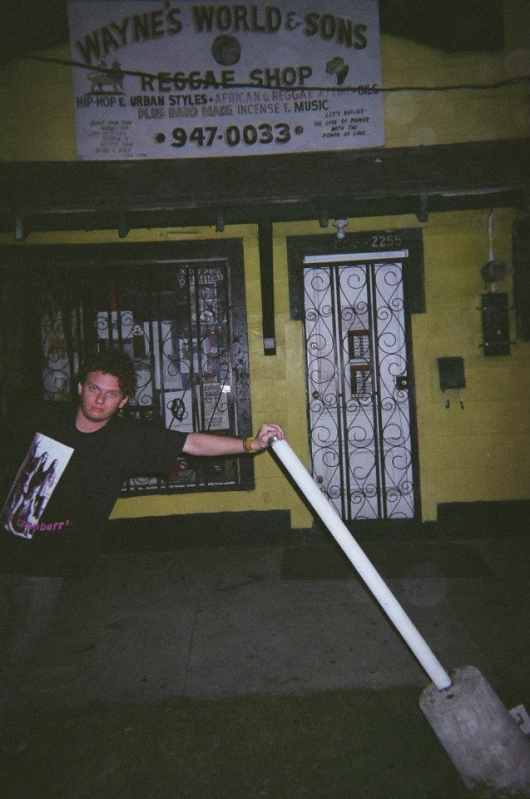 Above: Andrew leaning! (photo by Emo)
We found out that L.A Guns were added to the show. YES - L.A Guns! What the hell? We were already totally excited to play with King Louie.
A band called Dead People opened. The drummer apparently had a bunch of his gear stolen so I leant him some of our equipment. I guess theft is pretty common in NOLA. We played next & it was one of my favourite PKP sets of the tour! Really nice sound guy & good sound (which I very much appreciate)
King Louie and his Missing Monuments played next. I love watching them! Flying V guitars, rockstar moves on stage, and they played some Exploding Hearts too.
Things got REALLY silly with the 5 PKP people & Carly and Davie. We hungout outside, very lubricated with alcohol, did some poppers, and Andrew (who by the way, is the funniest human on earth) entertained us. I may have peed my pants from laughing.
LA Guns were up next. They played for about 4 hours (I am only slightly exaggerating). I watched them for a while - I was entranced by their moves! They had oh-so many moves. Much shredding, testosterone, sexiness! They put on a really different show from what I am used to. I don't play technical music like they do in any way. I went back and forth from the karaoke bar across the street (where apparently more silliness was happening) back to Siberia, the venue, to the club to catch bits and pieces of LA Guns.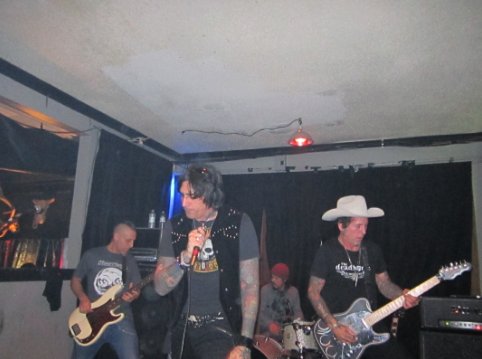 I ended up cabbing home with Carly - both of us were VERY partied out. I was drunk & having the time of my life but had to get at least a few hours of sleep so I would be somewhat functional the next day. 
 We kept partying at the hotel a bit and then all fell asleep.
I found out some scandalous news early in the morning - I guess the opening band had tagged the LA Guns tour van, and the LA Guns roadie found the culprits and knocked them out. Yikes! "Don't fuck with the LA Guns"
(note: Driving In and Out of New Orleans is TOTALLY COOL. The highways are essentially long bridges over the beautiful swampy water! It's like driving in a Mario Kart scene or something)
The next day we drove further east to TALLAHASSEE. My first time ever in Florida. We were playing at Retrofit Records, a new record store in the city. We played with Wet Nurse from Orlando. They are an all girl 3-piece that plays pop-punk-rock (or whatever) and were tight as hell! Catchy as hell! We were blown away. We got a CD of their recordings which was cool, but they were especially great live. Very talented people.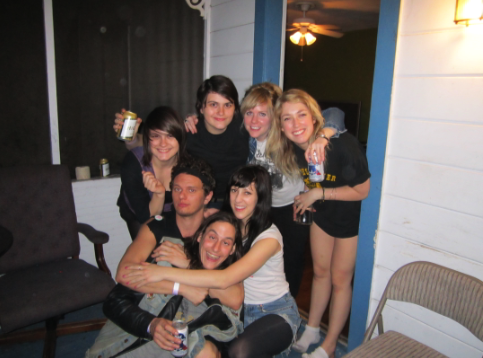 Peach Kelli Pop & the twins from Wet Nurse! (2 sets of twins representing!)
Carly and Davie drove to Tallahassee, so we partied s'more with them. We stayed in their hotel again! Thanks guys.
Morning after Tallahassee: We slept in! FINALLY!
I like getting about 10 hours of sleep a night. I know it's hedonistic, but it's how I am.
We got lunch at a vegetarian restaurant and had cheap, healthy, hearty soul food. I was VERY excited about it!
Unfortunately, afterwards, I walked around in some grass outside the restaurant and got stung by a colony of fire ants. It was gross and painful.
I had never really heard of fire-ants before (we don't have them up north) The stings ended up looking disgusting, being painful and itchy and my leg is covered in scars now. Fuck you, fire ants.
It really took the wind out of my sails for a minute or two.
I have to be honest - fire ants aside, I was not particularly drawn to Florida. There was pro-life propaganda everywhere and excessive amounts of old people (ew! joking) That said, everyone in Florida that I actually interacted with was cool.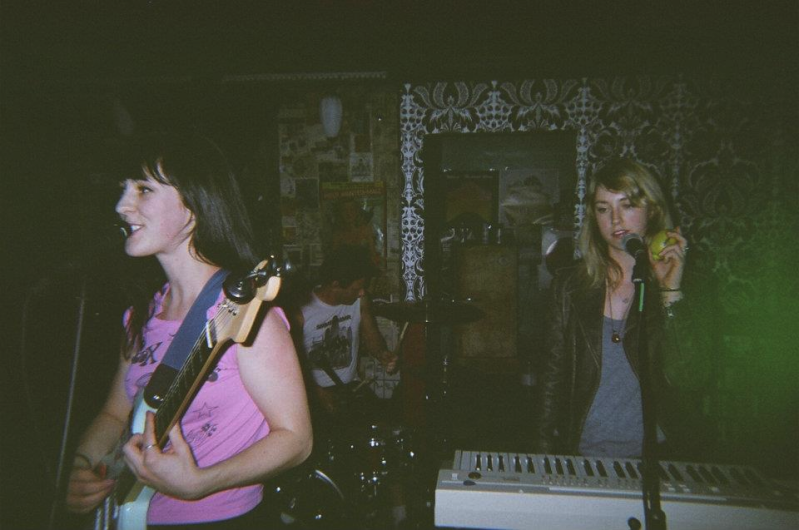 Us playing in Tallahassee - my sister looking THRILLED as always.
Check back for the final part tomorrow! Thanks so much to Allie and you can check out more Peach Kelli Pop on Facebook and Twitter! Her S/T debut is out on vinyl on Infinity Cat and cassette on Burger Records!