Peach Kelli Pop December Tour Diary Pt. 1
by Allie Hanlon
In 19 days, we played 19 shows and toured through Oregon, California, Arizona, Texas, Louisiana, Florida, Georgia, Tennessee, Alabama, Indiana and Michigan.
The band consisted of Myself (Guitar and Vocals) Emily (Keyboards & vocals) Kristina (Percussion & vocals) Richard (Bass) and Andrew (Drums)
Richard and Andrew also play in Mean Jeans, who I met while touring Europe with the White Wires, my other band where I play drums. PKP has never sounded better than with them in the band. Thanks dudes!
Our first show was in PORTLAND!
We had been hanging out in Portland for about 5 days prior to departure, getting ready for tour. Realistically that meant partying every night. We went to karaoke 4 times while I was in town! Myself, Emo and Kristina traveled from Ottawa to practice & get ready for tour in Portland. We stayed at Christian's house. He is the guitarist and singer in the Mean Jeans. He also lives with Petey who you may know from Pure Country Gold. It was really cool of Christian and his roomies to let the girls take over his house for so long. We made about 200 shirts in his basement!
Portland is a really rad city. I have always lived in Ottawa which I like, but can be bland and boring. Ottawa has nowhere near the same amount of culture and entertainment (or restaurants, at least) as Portland. Portland probably has 200 venues for live music.
Our first show of the tour was at Club 21. It was a small-ish club. Ideal for most shows, however, the lineup of the evening made it extra packed! There were people exploding out of the room. Using the bathrooms was futile. We had to go outdoors and be creative with places to pee (a skill we have refined over time)
First up was THE CRY - a band of young dudes who are total Rock n Roll. One of the guys, Mouse, recorded the new Mean Jeans album (which I had the opportunity to hear. It was fucking amazing.) The Cry were awesome and are nice guys too. We were really excited to see them play.
Guantanamo Baywatch were up next. I always love seeing them live. They sound good, they look good, they are bad ass. Local faves.
Then it was us! It was our first show of the tour. A little shakey, but really fun. We had an enthusiastic, drunk crowd, which is definitely the most fun to play to.
Things got totally outta hand for the Mean Jeans who played last. They are clearly local favourites as well. The stage was bum-rushed and the Mean Jeans were getting trampled! All hell broke loose! It was crazy and fun.
We had to wake up REALLY early the next morning to make the drive to San Francisco. We thought it would take about 10 hours. I had been anticipating that monster of a drive since I booked the tour. I felt really bad making my bandmates wake up so early and drive all day after such a fun night.
Next morning: Everyone surprised me with being totally ready to go. I did the first driving shift, and sped very illegally most of the time. Thankfully I did not get pulled over. The beginning of the drive from PDX > SF is pretty easy. I think Kristina had the honour of driving through windy, hilly, scary Grants Pass.
We got to San Francisco in record time - 9 hours I believe!
We felt pretty wonky after a late night, early morning and intense drive, but were happy to be at our next show. Josh Miller from the Wrong Words organized this show at the Knockout. The Wrong Words played. A+! I have had the pleasure of seeing them live a few times.
We unfortunately missed the opening band, Preteen, but I heard they were cool.
We had a great time in SF - one of my all-time favourite cities. Thanks to Preteen, Wrong Words and Josh!!!
We met up with our friend Mike Bova - of the Cowabunga Babes and the Vomettes (my favourite band name everrrr) He was cruising with us for the Western part of our tour. He is very funny and nice and I was happy to have him around for the first lil bit of our journey.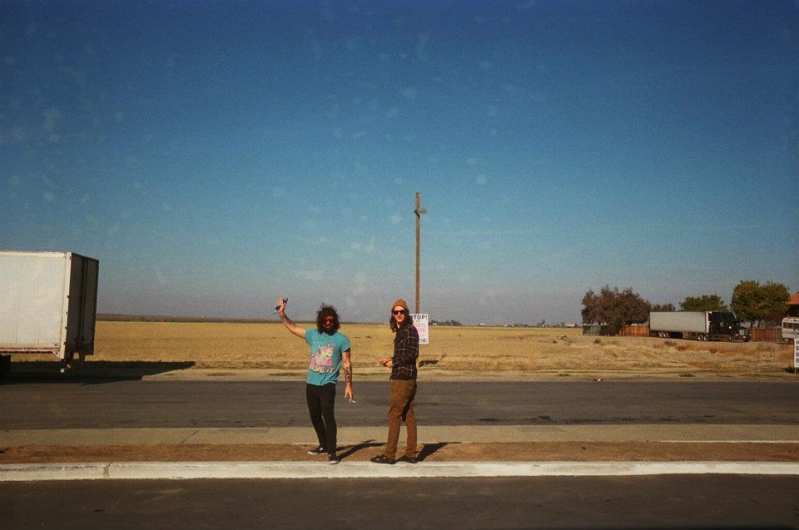 (Above: Mike Bova and Richard)
Next night was in Oakland. Steve from 1-2-3-4 Go! set us up with a cool show at his record store / venue. For those of you who care about music and are visiting Oakland, make sure to check out his store. We played with Swiftumz and King Lollipop. Swiftumz was up first. Chris McVicker is the songwriter in that band. He has a good group backing him up. The drummer has a cool unique drumming style which we all enjoyed. The bassist slays. She is also in the Bananas from Sacramento who I think are awesome. My favourite song by them is "Angelita". Brings a tear to my eye it's so good! 
We played after Swiftumz. I had a great time! Oakland is another city I love.  I have spent a lotta time there and It is my second home in some ways. I was very happy to finally be able to play there.
King Lollipop was next. That was my first time seeing them live. Cody from Shannon and the Clams is King Lollipop. He is backed by a group of percussionists - many of who I know from other Oakland bands. King Lollipop has a tape out on 1-2-3-4 Go's record label which I highly recommend.
The next day we had a long drive to the LA area.
I have had bad experiences driving from the Bay to LA - the traffic can blow total chunks. After some stop and go driving, we arrived in Fullerton - where BURGER RECORDS is located and where we were set to play an early show.
We played with Salsa Chips and Summer Twins.
I feel right at home at Burger Records every time I visit. Sean, Lee, Brian and Bobby are so chill, so nice and make you feel welcome. Salsa Chips opened. I am a fan of CUTE things, GIRLY things, and POP music. They were cute, girly, poppy, catchy. I love it! Right up my alley so to speak. Matt from Audacity plays guitar in this band and Bobby from Burger Recs is in the band too. Burger Recs sells their tape. I have listened to it a bajillion times. Jamie, one of the vocalists, has a great voice.
Then we played and it was awesome! I met a guy with a PKP TATTOO! I freaked out! I had already decided it was the best tour ever and that solidified my sentiments.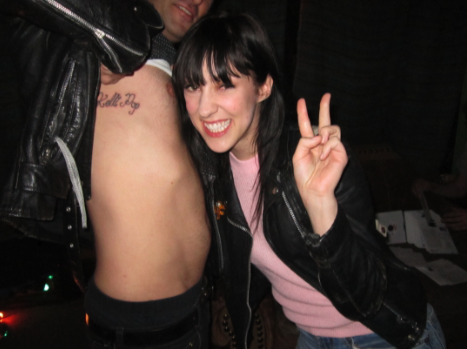 Summer Twins played last. I missed the first part of their set because I was selling merch and loading out our gear. I saw the second half. Woah! They are talented. I loved it. I geeked out on them after the set.
A great bill of bands! Thanks Burger Records!
We played another show that night!
The show was In Pomona at VHLS warehouse. That place is a DIY spot run by some young, enthusiastic music lovers. I always feel fortunate to work with, and play for people that are genuinely excited and inspired about current music. Thanks to Aaron Kovacs, Melinda Hinder and everyone else at VHLS!
Up first was the Lovely Bad Things. I didn't see all of their set, but what I saw was great. They put on a really energetic live show.
Next up was Underground Railroad to Candyland. They played right before PKP - which was very daunting for us. They are TOTAL local favourites! I saw why very quickly. Another band that we were very excited to play with.
We had a great time playing. We had one of the best audiences I have played for. SO FUN.
Last up were Pangea. I had played with them on another bill in LA, with the White Wires. At the time I was less familiar with them - this time around I knew all the songs. It was fun to hear them play all my favourites. They are excellent live. (Pangea and the Mean Jeans are currently touring the Northwest together!)
We drove back to Burger Records and crashed!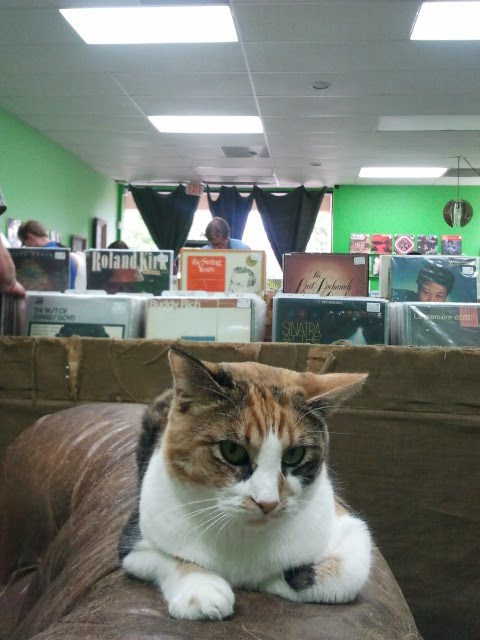 Ellie, the Burger Records store cat was VERY interested in everyone! First she was cuddling with Andrew.
Ellie then insisted on fully inspecting my sleeping bag, even with me inside. She crawled all way to the end and huddled next to my feet for a while. She crawled around my legs, back up the top, back to the end of the sleeping bag again. I was in her territory, afterall, so I thought she was entitled to inspect.
We woke up, felt crusty, but journeyed onwards.
(Above: Emo, Lee, Myself, Sean, Kristina, Richard in front of Burger Store.)
Next we played San Diego. It was a weeknight - which can be tough sometimes. We played at the Til Two Club. The promoter, Tyrone, was playing awesome records all night. We played with Jungle Fever, who I had heard of, but never actually heard. They ruled! Two ladies and a dude drummer. Everyone in PKP ended up with one of their shirts - we had to coordinate when we were gonna wear them, so we wouldn't be matching (which would be SO TERRIBLE, right?) San Diego was our last Californian show. We stayed with Mike Bova, who resides in San Diego. He lives with Lucy and Brian from Christmas Island. We said our goodbyes to Mike (boooo) and took off for Tucson AZ!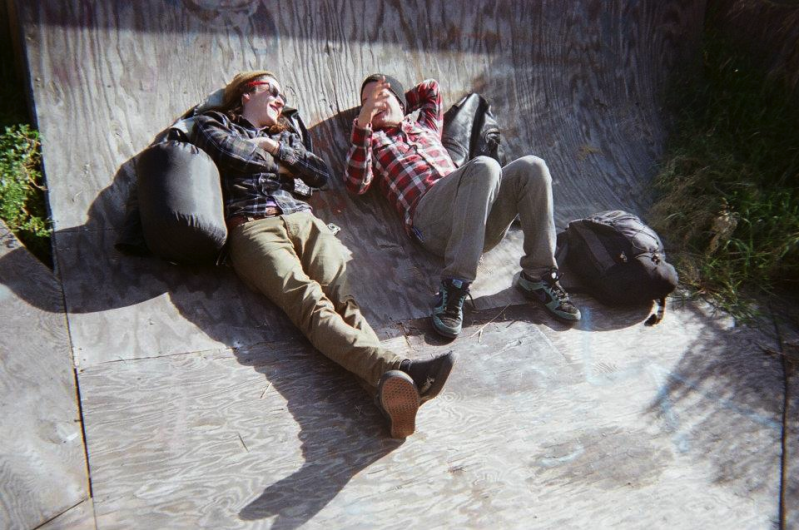 (Above: Richard and Andrew laying in the sun on a half pipe outside Mike's house)
Read Part Two HERE! Thanks so much to Allie and you can check out more Peach Kelli Pop on Facebook and Twitter! Her S/T debut is out on vinyl on Infinity Cat and cassette on Burger Records!